Discover the vibrant world of birds in Colombia as the country embarks on a new era of conservation strategy. With a comprehensive plan in place, Colombia is committed to protecting its diverse avian species. In this article, we delve into the recently launched National Bird Conservation Strategy and its profound impact on preserving the rich birdlife found throughout the country.
NATIONAL BIRD CONSERVATION STRATEGY
Colombia, with its unique avian wealth and over 250 migratory species connecting it to the hemisphere, holds the responsibility of conserving valuable bird diversity and habitats.
The updated ENCA 2030, is a comprehensive roadmap integrating economic, social, and cultural models, marks a significant milestone in safeguarding the 1,966 bird species that inhabit the country.
Colombia a
Birdwatcher's Paradise
Renowned as one of the world's foremost birdwatching destinations, Colombia's remarkable avian biodiversity has placed it at the forefront of bird conservation efforts. The National Bird Conservation Strategy serves as a catalyst for local development, leveraging the immense potential of avitourism. Furthermore, it aligns seamlessly with the government's commitment to combat deforestation and restore ecosystems, particularly in the Amazon region.
Measurable Goals for Avian Preservation: Unlike its 2000 predecessor, the updated ENCA incorporates a robust framework with measurable indicators to monitor progress effectively. Through the implementation of 11 objectives across five strategic axes, this strategy charts a clear course for the next two decades, adapting to the evolving needs of bird conservation in Colombia.
Preserving Birds in Colombia:
Five Strategic Axes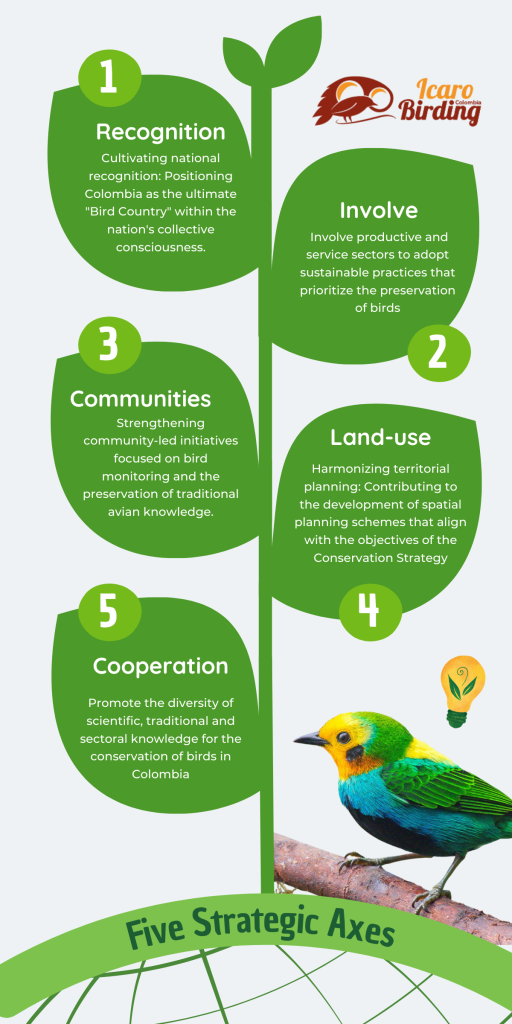 Preserving Colombia's Avian Treasures: Through the implementation of the National Bird Conservation Strategy ENCA , Colombia is taking significant strides towards empowering local communities, promoting sustainable tourism, and safeguarding its remarkable avian biodiversity. Birds not only serve as indicators of ecosystem health but also hold deep cultural significance. By cherishing and preserving the avian treasures that grace our skies, we embrace our role as guardians of the birds in Colombia.