Why go Birding

in Colombia?
Icaro Birding Tours

to Colombia in a nutshell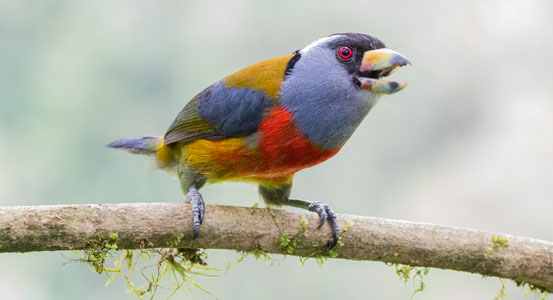 Epic Andes Birding Tour
Our most colorful birding tour will take you to explore birding hotspots in the Cauca Valley (home to over 900 bird species), the Choco Bioregion (the most biodiverse region on earth), and the Coffee Triangle region of Colombia (best coffee in the world).
Our favorite birds: Endemic Multicolored Tanager & Gold-ringed Tanager, Toucan Barbet (photo), and Endemic Buffy Helmetcrest
Duration: 12 days
Price: $4,200 per birder
Goal: 350 – 450 bird species including +35 endemics
Add the Santa Marta Endemics Tour and save $500!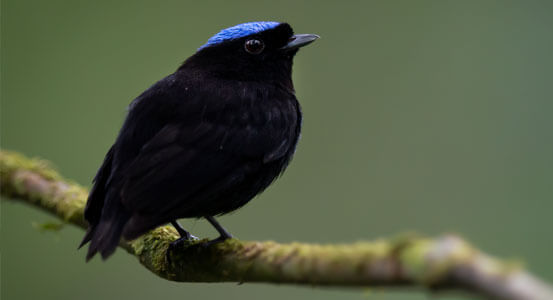 Magdalena Valley of Magic Tour
If you support the mission of the American Bird Conservancy this tour is for you. We visit two Nature Reserves supported by the ABC for the protection of the iconic and endangered Chestnut-capped Piha and Blue-billed Curassow.
Most coveted birds: Endemics White-mantled Barbet (Photo), Beautiful Woodpecker, and Red-bellied Grackle

Duration: 15 days
Price: $4,800 per birder
Goal: +400 bird species including +30 endemics

Add the Santa Marta Endemics Tour and save $500!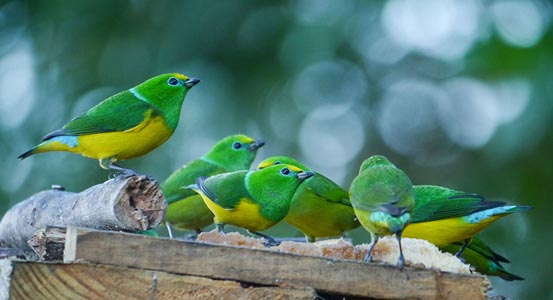 Santa Marta Endemics Tour
The Santa Marta Mountain range on the Caribbean Coast of Colombia is recognized as a hotbed for endemism in the Americas. Detached from the Andes by a wide valley, isolation has created the perfect conditions for up to 20 bird species to be found here and nowhere else. In just 7-days you will have the chance to see many of these endemics and around 300 bird species total
Birds of particular interest include (E) Sierra Nevada Brush-finch, (E) Santa Marta Tapaculo, (E) Santa Marta Woodstar, (E) Santa Marta Blossomcrown (E) Santa Marta Antbird, (E) Santa Marta Screech-owl, (E) Santa Marta Parakeet, (E) White-tailed Starfrontlet, (E) Santa Marta Mountain-tanager, (NE) White-tipped Quetzal among many more
Duration: 7 days
Price: $3,000 per birder
Goal: Over 250 bird species including over 20 endemics!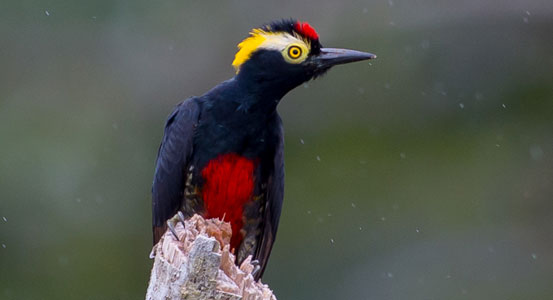 Remote Amazon Birding Tour
An off-the-beaten-path birding tour to remote areas in Amazon foothills will set you on track to explore habitats as diverse as white sand Amazon soils, Guiana Shield, Terra Firme tropical forests, gallery forests, and seasonally flooded Varzea Forest A once in a lifetime birding experience not suitable for the faint of heart.
Birds of particular interest include Fiery Topaz, Tawny-tufted Toucanet, White-plumed Antbird, Guianan Cock-of-the-Rock, Red-fan Parrot, Capuchinbird, Yapacana Antbird, Black-spotted Bare-eye and many more bizarre-looking specialties.
Goal: About 300 bird species including 100 specialties
Duration: 10 – 12 days: We have two versions for this tour
Price: $4,500 – $5,000 per birder

What our guests have to say about

Icaro Birding Tours to Colombia
"Birding Trip. Well planned, excellent accommodations, good food, world-class bird guide. The tour guide was always available and proactive!"
What struck me most about that trip was the interaction with the indigenous people, actually being on their land and seeing their villages. That was an incredible experience. I was amazed at how clean those villages are and the two bathrooms that I used were so very clean. I was amazed – Hopefully, you can keep that trip going with other groups. It is a great one!
My brother and I couldn't have imagined a more inspiring place to spend as this pandemic was unfolding — to be bombarded with beautiful birds and extraordinary landscapes– not to mention the people — was perfect!
Icaro Birding

Offers More