Why go Birding

in Colombia?
Other tour operators will deliver on their promise to show you birds in their natural habitat. But that is the minimum you should expect from a birding tour, so why settle?
Icaro Birding

Offers More
What Sets Icaro Birding Tours
to Colombia Apart
We donate $100 to a preservation initiative in Colombia for each birder who registers with us.
Pay with a credit card and use the miles you earn to book your flight to Colombia! Or pay with PayPal with no transaction fees. We also accept direct deposit, checks, Venmo, etc.
While our tours are not cheap, you save when compared to the big shot international birding tour companies. Plus we offer more perks and a lot more local flavor.
We are ideally suited to satisfy the needs and wants of couples and groups going after a personalized birding experience. However, our standard tours and set dates will ensure an exceptional birding time in Colombia for everyone.
What our guests have to say about

Icaro Birding Tours to Colombia
My brother and I couldn't have imagined a more inspiring place to spend as this pandemic was unfolding — to be bombarded with beautiful birds and extraordinary landscapes– not to mention the people — was perfect!

What struck me most about that trip was the interaction with the indigenous people, actually being on their land and seeing their villages. That was an incredible experience. I was amazed at how clean those villages are and the two bathrooms that I used were so very clean. I was amazed – Hopefully you can keep that trip going with other groups. It is a great one!

Icaro Birding Tours

to Colombia in a nutshell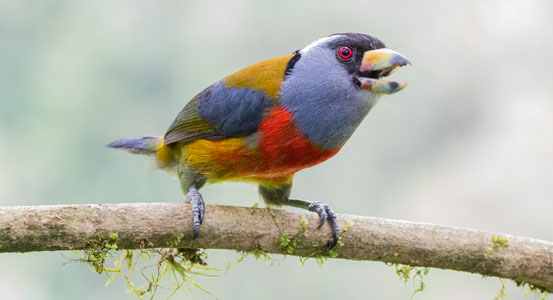 Epic Andes Birding Tour
Our most colorful birding tour will take you to explore birding hotspots in the Cauca Valley (home to over 900 bird species), the Choco Bioregion (the most biodiverse region on earth), and the Coffee Triangle region of Colombia (best coffee in the world).
Our favorite birds: Endemic Multicolored Tanager & Gold-ringed Tanager, Toucan Barbet (photo), and Endemic Buffy Helmetcrest
Duration: 12 days
Price: $4,200 per birder
Goal: 350 – 450 bird species including +35 endemics
Add the Santa Marta Endemics Tour and save $500!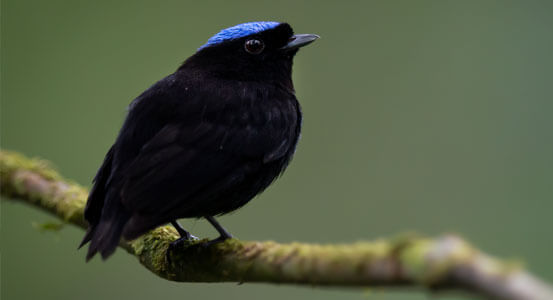 Magdalena Valley of Magic Tour
If you support the mission of the American Bird Conservancy this tour is for you. We visit two Nature Reserves supported by the ABC for the protection of the iconic and endangered Chestnut-capped Piha and Blue-billed Curassow.
Most coveted birds: Endemics White-mantled Barbet (Photo), Beautiful Woodpecker, and Red-bellied Grackle

Duration: 15 days
Price: $4,800 per birder
Goal: +400 bird species including +30 endemics

Add the Santa Marta Endemics Tour and save $500!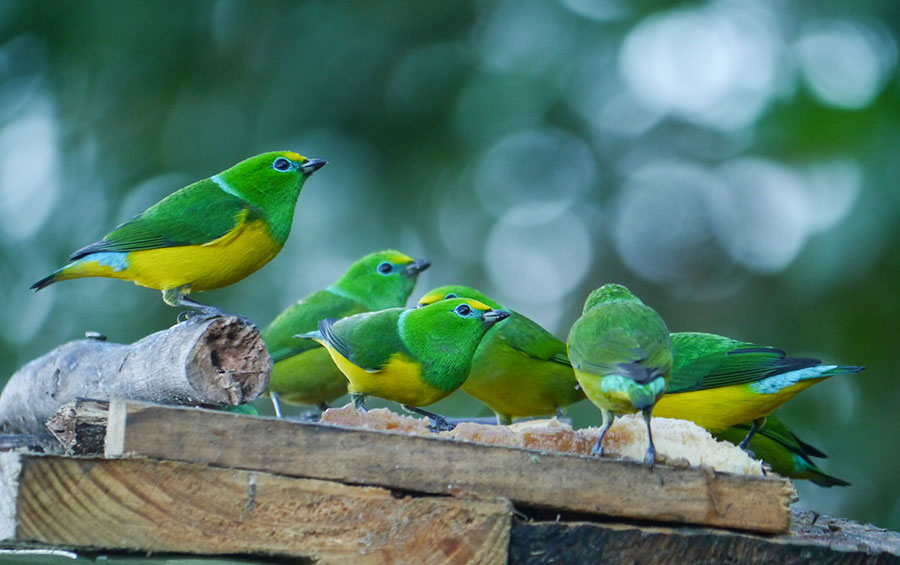 Santa Marta Endemics Tour
The Santa Marta Mountain range on the Caribbean Coast of Colombia is recognized as a hotbed for endemism in the Americas. Detached from the Andes by a wide valley, isolation has created the perfect conditions for up to 20 bird species to be found here and nowhere else. In just 7-days you will have the chance to see many of these endemics and around 300 bird species total
Birds of particular interest include (E) Sierra Nevada Brush-finch, (E) Santa Marta Tapaculo, (E) Santa Marta Woodstar, (E) Santa Marta Blossomcrown (E) Santa Marta Antbird, (E) Santa Marta Screech-owl, (E) Santa Marta Parakeet, (E) White-tailed Starfrontlet, (E) Santa Marta Mountain-tanager, (NE) White-tipped Quetzal among many more
Duration: 7 days
Price: $3,000 per birder
Goal: Over 250 bird species including over 20 endemics!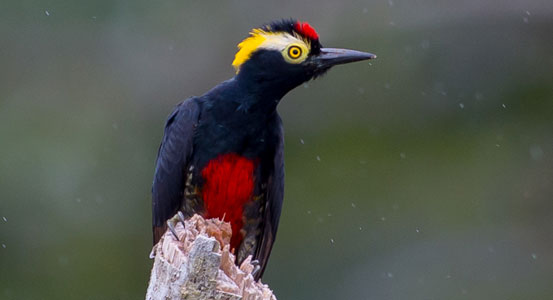 Remote Amazon Birding Tour
An off-the-beaten-path birding tour to remote areas in the Amazon will set you on track to meet bizarre-looking birds hard so see elsewhere in the world. A once in a lifetime birding experience not suitable for the faint of heart.
Top weird-looking birds: Guyana Cock-of-the-Rock, Capuchinbird, and Tawny-tufted Toucanet
Goal: About 300 bird species including some 100 specialties
Duration: 10 – 12 days: We have two versions for this tour
Price: $4,500 – $5,000 per birder